Contents
Overview: The Branded Wagyu That Has Longest History in the World
Omi beef has longest history among branded wagyu. It has history of more than 400 years (Learn more in History section). Omi beef is regarded as one of the most famous branded wagyu in Japan.
How to identify high quality Omi Beef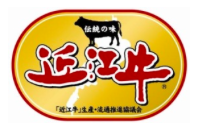 Same as Matsusaka beef, there are two types of Omi beef: Omi beef and Premium Omi beef. All Japanese black breed cattle raised longest in Shiga Prefecture (Omi region) can be named Omi beef. Premium Omi beef, on the other hand, is Omi beef that has meat grade of B4 and above (see Basic Information section for more detail about requirements). If you want to experience melting marbling wagyu, you should look for Premium Omi beef (認証近江牛 "Ninsho Omi Gyu" in Japanese). You can differentiate Premium Omi beef by Premium Omi beef mark.
Learn more: Meat Grading System

Where can you eat authentic Omi beef?
Although it is not comprehensive, there are list of restaurants where you can eat Omi beef in Omi Beef Association website (external link).
History
Wagyu enjoyed by Samurai
Wagyu in Omi region has history of more than 400 years. Omi beef was presented to shogun in 1590. Miso-marinated wagyu "Henpongan" was created in Omi region and was eaten as energetic supplement among samurai. Even when it was forbidden to slaughter cattle for eating (until 1870s, cattle in Japan was for working in farms etc. and was not eaten mainly because of religious reason), farmers raised wagyu for eating in Omi region; Omi region has longest history of raising wagyu.
Omi beef was once Kobe beef
Because it was custom to call wagyu by its departing place, Omi-raised beef was once called Kobe beef because it was shipped via Kobe port to Tokyo. The name "Omi beef" was first used around 1890, after train station opened in Omi and Omi-raised beef has started to be transported by train.
Omi merchants and Omi beef
Omi region once was a merchant city. Omi produced many merchants who were successful throughout Japan and even outside of Japan. They had motto "三方よし" (Sanpo Yoshi, its direct translation is "good in three directions") meaning that not just customers and vendors that should be satisfied but society must also be satisfied to be successful. Some of them are founders of current big-name companies in Japan. One Omi merchant, Kyuji Takenaka, is said to have popularized Omi beef in Tokyo by opening Omi beef sukiyaki restaurant called Yonekyu in 1883.
Omi Beef Association was founded in 1951, and it was one of the earliest association that promoted wagyu as regional brand.
Sightseeing in Omi region
Omihachiman
Omihachiman retains the image of old town when Omi merchants prospered and is often used as shooting place of samurai dramas and movies. Its history began in 1585 when one castle was built in this region. The old town is lightened by about 3,000 lanterns every fall, and it is called Hachiman Moat Festival. The next festival will be held in Oct. 13-14, 2018.
Hikone Castle
It took about 20 years to build, and the construction was finished in 1622. Hikone Castle is one of the few castles that survived and is national treasure in Japan. Hikone Castle is also known for its cherry blossoms. In spring, about 1,200 trees bloom all at once.
Lake Biwa
Lake Biwa is the biggest freshwater lake in Japan. You can enjoy swimming and cruising in this lake. Because it is one of few ancient lake in the world, it is home to many endemic species. Even though it is not native species, many bass also live here and you can also enjoy bass fishing, too.
Learn more about sightseeing: https://en.biwako-visitors.jp (external link)

Map of Omi
Basic Information
Premium Omi Beef
Omi Beef
Name
English: Premium Omi Beef
Japanese: 認証近江牛
English: Omi Beef
Japanese: 近江牛
Breed
Japanese Black (Kuroge)
Birth Place
–
Raising Place
Shiga Prefecture must be longest raising place.
Gender
–
Meat Grade

Learn more: Meat Grading System
Yield Grade: B or above
Meat Quality Grade: 4 or above
Beef Marbling Standard (BMS): 5 or above
Yield Grade: –
Meat Quality Grade: –
Beef Marbling Standard (BMS): –
Age
–
Other
Cattle must be raised by member of Omi Beef Association, and must be processed to meat in Shiga Meat Processing Center or Shokuniku Market of Metropolitan Central Wholesale Market in Tokyo.
–
Number
About 7,000 cattle per year
Association
Association for Promoting the Production and Distribution of "Omi Beef"
http://www.oumiushi.com/en/


Link


Reference