Contents
Overview: Locally Bred, Fattened, and Consumed Branded Wagyu in Okinawa, Japan
Ishigaki beef is a Japanese Black cattle, bred and fattened in Yaeyama District, Okinawa, Japan (see Basic Information for more detail about requirements). Okinawa is southernmost resort islands in Japan attracting many visitors for its distinctive culture and beautiful sea with corals and colorful tropical fish.
Ishigaki beef has a long history, but it became very popular in Japan when it was served as main dish in the 26th G8 summit held in Nago, Okinawa in 2000. Most Ishigaki beef is consumed in Okinawa because of limited availability; only 600-800 cattle is produced every year.
Learn more: Definition of Wagyu
How to Identify High Quality Ishigaki Beef
There are two types of Ishigaki beef, depending on meat grade. You can differentiate them by labels.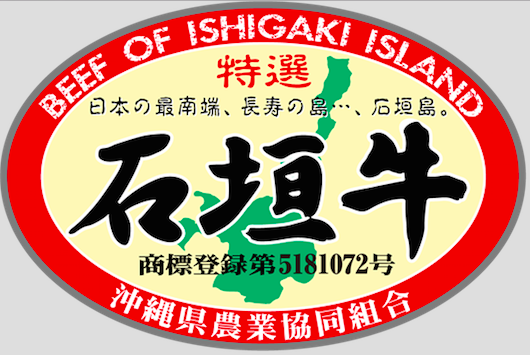 Premium Ishigaki Beef (特選石垣牛 "Tokusen Ishigaki Gyu" in Japanese) has higher meat grade, and
meat quality grade
must be 4 or above.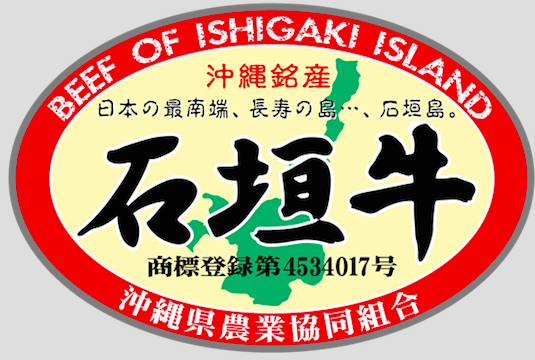 Ordinary Ishigaki Beef (銘産石垣牛 "Meisan Ishigaki Gyu" in Japanese) has
meat quality grade
of 2 or 3. It does not assure high marbling beef.
The labels look very much alike, but the red Japanese word on the top is different. For Premium Ishigaki Beef, "特選" is written, and for normal Ishigaki Beef, "沖縄銘産" is written.
Learn more: Meat Grading System
Where Can You Eat Authentic Ishigaki Beef?
Most Ishigaki beef is consumed in Okinawa Prefecuture, southernmost islands of Japan. When you go to Okinawa (including Ishigaki Island where Ishigaki beef name comes from), you would find many restaurants with Ishigaki beef label displays at the entrances. There are many restaurants in Naha City, Okinawa Island, and Ishigaki Island (for locations, see Map of Ishigaki).
Learn more: Certified Restaurant and Retailer List by JA Okinawa Ishigaki Gyu (external link, Japanese)
History
It is said that Ishigaki beef has existed since 1970. Back then, Ishigaki beef was transported to central Japan such as Osaka and Nagoya. But actually, producing (fattening) wagyu in Ishigaki was not popular until recent years. Instead, Ishigaki has been long known for breeding wagyu; calves have been transported to other regions of Japan known for producing (fattening) to become other branded wagyu, including Matsusaka beef.
To establish brand of Ishigaki beef as a producer of wagyu, JA Ishigaki Beef Fattening Meeting (JA石垣牛肥育部会 in Japanese) was founded in 1999. Ishigaki beef became known all over the world when Ishigaki beef was served as main dish at G8 summit in 2000. Since then, Ishigaki beef became one of the popular brand representing Okinawa among other Okinawa-related brands such as Salt of Ishigaki, Okinawa soba, and Ryukyu awamori.
Sightseeing in Ishigaki, Japan
Ishigaki Island, Okinawa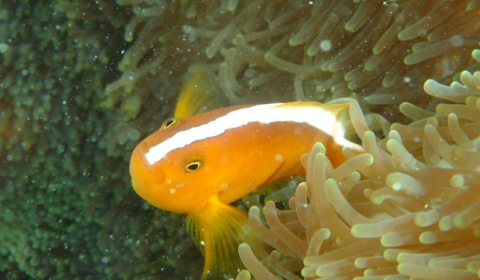 Ishigaki Island, which Ishigaki beef name comes from, ranked world's #1 in "Destination on the Rise 2018" category by Trip Advisor. Located in southernmost part of Japan, Ishigaki's climate is tropical. Its beautiful corals and colorful fish in tropical sea attract travelers and scuba divers from all over the world.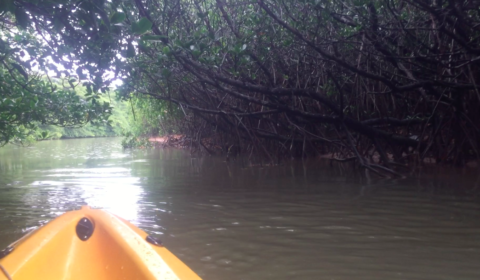 It is not just sea that attracts travelers. Mangrove, which inhabits in tropical climate, grows in rivers of Ishigaki. You can explore mangrove forests by kayak.
Taketomi Island, Okinawa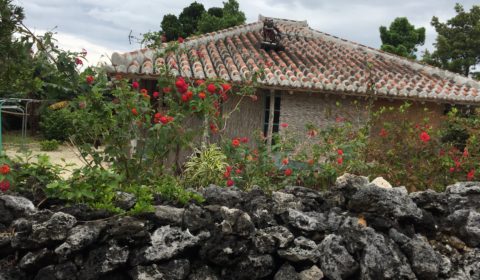 Taketomi Island is only 10 minutes away by ferry from Ishigaki and is part of Yaeyama District. It is known for preserving Okinawa's traditional architectures. The characteristics of traditional house are Shisa, coral stone walls, and orange roof. Shisa is a statue of guardian lion believed to protect from evils and is usually placed at the gate or on the rooftop of houses. Coral stone walls are only stacked up and not glued together. Many typhoons pass over here every year, but thanks to air ways between coral stones, coral stone walls do not collapse even in the stormy wind.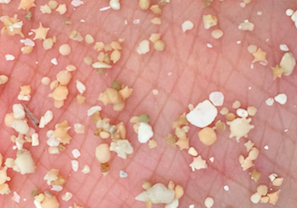 There are many beautiful beaches. There is a beach named "Kaiji Hama" known to have star-shaped beach sand. Actually, this star-shaped sand is not a sand but is a shell of a type of forams.
Map of Ishigaki
Basic Information
Premium Ishigaki Beef
Ishigaki Beef
Name
English: Premium Ishigaki Beef, Tokusen Ishigaki Beef
Japanese: 特選石垣牛
English: Ishigaki Beef, Meisan Ishigaki Beef
Japanese: 銘産石垣牛
Breed
Japanese Black (Kuroge)
Birth Place
Yaeyama District, Okinawa
Raising Place
Must be raised in Yaeyama District for more than 20 months.
Gender
Cow (female cattle) or Steer
Meat Grade

Learn more: Meat Grading System
Yield Grade: B or above
Meat Quality Grade: 4 or above
Beef Marbling Standard (BMS): 5 or above
Yield Grade: B or above
Meat Quality Grade: 2 or 3
Beef Marbling Standard (BMS): 2-4
Age
24-40 months for cow, 24-35 months for steer
Other
Must be able to provide Production History Certificate
Number
About 600-800 cattle per year
Association
JA Okinawa Ishigaki Gyu
http://www.ishigakigyu.com/ (Japanese)


Link


Reference