Contents
Overview: The most prestigious branded wagyu in the world
Kobe beef is regarded as one of the best and famous branded wagyu in Japan. Kobe beef is also famous around the world, especially in US. The former president of US, Barack Obama, requested to eat Kobe beef when he visited Japan in 2009. Kobe Bryant, a famous basketball player, is said to be named after this beef.
Kobe is wagyu, but not all wagyu is Kobe
Kobe beef is so famous that it is sometimes used as synonym of wagyu outside of Japan, but this is misuse of Kobe beef. Kobe beef must be bred and raised in Hyogo Prefecture, Japan, and must have beautiful marbling. Among the top five famous branded wagyu, Kobe beef has most strict requirement in terms of marbling. Kobe beef assures to have Beef Marbling Standard (BMS) of 6. Only a handful of wagyu raised in Japan could be called Kobe beef.
Potential Kobe beef cattle is carefully raised by registered members. Checking mother cow, body shape etc., producers carefully select potential Kobe beef cattle and raise it for average of 32 months. After the cattle is processed to meat, inspected, and certified to be Kobe beef, beef could be named as Kobe beef. There is so much fuss about this prestigious beef: cattle is massaged, beer is given, cattle listens to music, and so on. Kobe Beef Marketing & Distribution Promotion Association states that there may be some small producers that raise the cattle this way to increase appetite and release stress of cattle, but it is not required to be Kobe beef.
History
Kobe is known as an international port in Japan. Many foreigners started to come to Japan via Kobe port back in 1868. At this time in Japan, cattle was mainly working in farms and was not eaten. It is said that the first man to eat cattle in this region was an English man. Gradually, people started to eat beef, and breed of cattle was improved for eating. Kobe-raised beef soon became to be known as Kobe beef. Kobe Beef Marketing & Distribution Promotion Association was founded in 1983 and defined the Kobe beef officially.
Where can you eat authentic Kobe beef?
You can find list of registered restaurants, retailer, and wholesale around the world in Kobe Beef Marketing & Distribution Promotion Association website.
Sightseeing around Kobe, Japan
"The Best Three in Japan" located in Kobe
Kobe beef is selected as one of the best three branded wagyu in Japan. Kobe is also famous for its beautiful night view, and its night view from Kikusei Dai on Mt. Maya is selected as one of the best three night views in Japan. In addition, there is very famous onsen (hot spring) in Japan called Arima Onsen, regarded as one of the three oldest hot spring spot in Japan. There is ryokan (Japanese-style hotel) in Arima Onsen that serves Kobe beef for dinner. You can experience onsen and Kobe beef at once in Arima Onsen!
Historical Western-style Buildings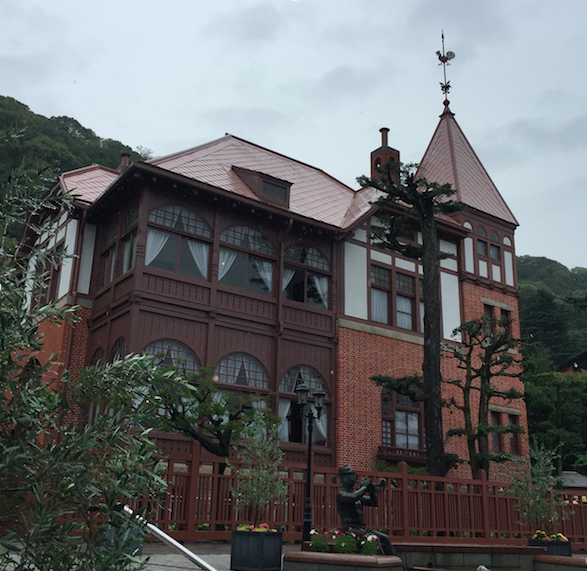 Because many foreigners settled in Kobe after international port opened, you will find many historical western-style buildings in Kobe. One famous building is Kazamidori no Yakata (meaning "Weathercock House" in Japanese because it has weathercock on the top of the house). German trader Gottfried Thomas lived here in early 1900s. Around Kazamidori no Yakata, there are many other western-style buildings, such as Uroko no Ie (meaning "Fish-scale House" because of how it looks), English House (pub is open at night) etc.
Learn more: Kobe Kitano Ijinkan (external link)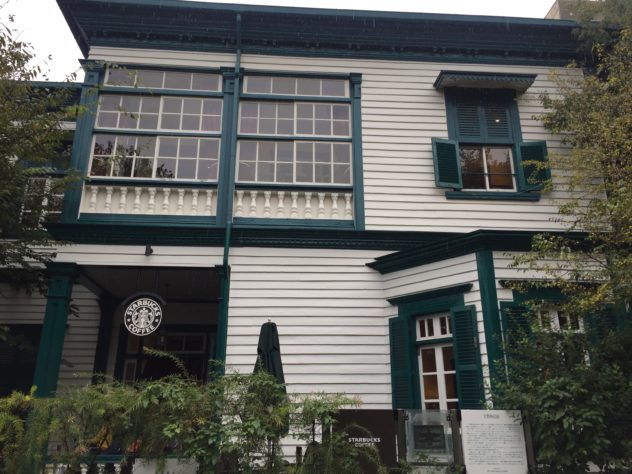 Starbucks used historical western-style building as a café (Starbucks Kobe Kitano Ijinkan). The two-story building is registered as Registered Tangible Cultural Properties by Agency of Cultural Affairs, Government of Japan, and you can rest in this beautiful building with Starbucks coffee.

For more information about sightseeing in Kobe: Feel Kobe+ (external link)

Map of Kobe
Kobe is capital of Hyogo Prefecture and is located only 30 minutes away by train from Osaka, the second largest city in Japan, and 60 minutes away by train from Kyoto. Arima Onsen is 30 minutes away from Kobe city center.

Basic Information
Name
English: Kobe Beef, Kobe-gyu, Kobe-ushi, Kobe-niku
Japanese: 神戸ビーフ, 神戸牛, 神戸肉
Breed
Japanese Black (Kuroge)
Birth Place
Hyogo Prefecture (at registered breeder)
Raising Place
Hyogo Prefecture (raised by registered member)
Gender
Heifer or Steer
Meat Grade

Yield Grade: A or B
Meat Quality Grade: 4 or above
Beef Marbling Standard (BMS): 6 or above

Learn more: Meat Grading System

Age
28-60 months
Other

Weight of carcass must be 230kg—470kg for heifer, 260kg—470kg for steer
Meat processing place must be Hyogo Prefecture
Beef must be Tajima beef
In case any damage was founded in the carcass, commission member shall check and judge whether beef could be Kobe beef

Number
About 5,000 cattle per year
Association
Kobe Beef Marketing & Distribution Promotion Association
http://www.kobe-niku.jp/en/top.html


Link


Reference