Contents
Overview: One of the top branded wagyu in Japan that has long history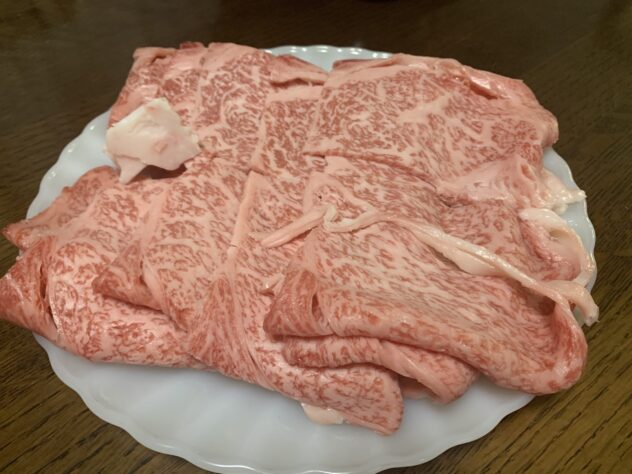 Matsusaka beef is regarded as one of the three famous branded wagyu in Japan. Matsusaka beef became famous since it has won national wagyu contest in 1935 in Japan. Basically, all Japanese black heifer raised in Matsusaka beef production area could name as Matsusaka Beef (see Basic Information for more detail about requirements.) Even though Matsusaka beef is known to have beautiful marbling, there is no requirements of meat grade nor marbling, meaning that meat quality and amount of marbling vary, and its price range is very wide.
Learn more: Price & BBG
How to identify high quality Matsusaka Beef
One of the ways to identify high quality Matsusaka beef is to look for premium Matsusaka beef (特産松阪牛 (Tokusan Matsusaka Ushi) in Japanese), which has more requirements than ordinary Matsusaka Beef. Cattle must be born in Hyogo Prefecture (same as Kobe beef), and must be raised longer. Cattle raised longer is often said to be "aged-alive" beef because taste of wagyu deepens. Among Matsusaka beef, only few percent is premium; price of premium Matsusaka beef could be more than twice as much as ordinary Matsusaka beef.
You can check if the beef is premium or not by checking the Matsusaka beef sticker or certification. If it says "特産 (toku-san)", it is premium. If it has meat grade (such as "A5") it is ordinary Matsusaka beef. If you are looking for marbling, you should look for premium Matsusaka beef or, better meat quality grade, the number of the meat grade (5 of "A5"), 5 being the best.
Learn more: Mie Matsusaka Meat Corporation Co., Ltd. (external link), Meat Grading System

Where can you eat authentic Matsusaka beef?
Although it is not comprehensive, you can search for restaurants, whole sale, retail stores at Mie Matsusaka Meat Corporation Co., Ltd. website.
You can identify authentic Matsusaka beef by checking certificate or Matsusaka beef sticker. Because Matsusaka beef database is open to public, and you can search the mother cow, birth place, raising place etc. at Mie Matsusaka Meat Corporation Co., Ltd. website using 10-digit identification number.
Matsusaka Beef Contest: Queen of Matsusaka Beef
Every November, there is Matsusaka Beef Contest (松阪肉牛共進会 in Japanese) held in Matsusaka City, Mie Prefecture, Japan. This contest started in 1949. 50 premium Matsusaka cattle chosen in the preliminary contest compete in this contest, and the cattle will be ranked. The best cattle will be regarded as "Queen of Matsusaka". Right after the contest, auction of the winning cattle will be held, and visitors can watch this auction. It is exciting to watch the price of Queen of Matsusaka going up, which could be about 300,000 USD and is usually four to five times higher than the second-ranked cattle! It is definitely the most expensive wagyu, auctioned alive in Japan.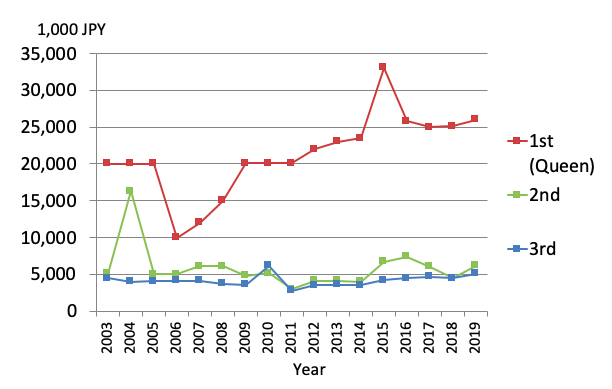 *The contest was not held in 2020 and 2021 due to COVID.
History
Cattle in Japan was working cattle and was not eaten until around 1870s. Farmers in Matsusaka region used Tajima breed cattle from Hyogo prefecture (the same breed as Kobe beef) for work. As people started to eat beef, cattle was fatten for a year and processed to meat after working three to four years.
Cattle raised in Matsusaka region gradually became to be known as high quality meat, especially after Matsusaka beef won National Beef Livestock Exhibition (全国肉用畜産博覧会 in Japanese) held in Tokyo in 1935. Since then, Matsusaka beef is regarded as one of the most famous branded wagyu in Japan.
There were several associations until 2004 that certified Matsusaka beef. Some association required that beef has A5 or B5 meat grade, which was more strict than that of Kobe beef. These associations were unified in 2004, and Matsusaka Beef Association was founded. The requirements for being Matsusaka beef was also unified, and currently, there is no requirements for meat grade, and birth place of cattle does not need to be Hyogo Prefecture (except premium Matsusaka beef). Although it is not required, some farmers feed beer and massage cattle in an aim to improve the quality of meat.
Recent years, leather of Matsusaka cattle is used for leather accessories. Matsusaka leather becomes glossy as you use because it includes more oil, and this oil gradually comes out to surface as the time passes.
Matsusaka beef is often mistaken as Matsuzaka, but the correct spelling is Matsusaka.
Sightseeing around Matsusaka, Japan
Ise Jingu & Okage Yokocho
Ise Jingu is the most sacred place of shinto, one of the main religion in Japan and has history of 2,000 years. Amaterasu-Omikami, the god of sun, is enshrined in Naiku part of Ise Jingu. Every year so many Japanese people come to pray at this sacred place; 5.8 million Japanese people visited here in 2017 (Ref: Ise City website (Japanese)). There is also Geku close by, where Toyo'uke-no-Omikami, god of well-being, is enshrined. Okage Yokocho opened in 1993 in front of Naiku. There are many souvenir shops and restaurants which serves typical food in Ise region such as Ise Udon. You can see the historical buildings here because many of the buildings in Okage Yokocho are from Edo and Meiji Era (early 1600 to early 1900).
Learn more: Ise Jingu (external link), Okage Yokocho (external link)
Iga Ninja – Ninja Museum of Igaryu
One of the historical school of Ninja, Igaryu, was located around here. Igaryu Ninja was known to have many skills using fire and explosives. You can see the tools Ninja used in Ninja Museum of Igaryu. In this museum, there is also Ninja House with many tricks such as hidden doors and fake hall ways.
Learn more: Ninja Museum of Igaryu (external link)
Toba: Birth Place of Pearl King
Kokichi Mikimoto was the first successful man to create cultured pearls in 1893. He founded jewelry shop using these pearls and became a global jeweler, Mikimoto. There is Mikimoto Pearl Island in Toba City where you can learn about the pearls and cultivation of pearls. Ama divers, a female divers who once played important role in cultivation of pearls, demonstrate their diving skills in this island.
Learn more: Mikimoto Pearl Island (external link)
Map of Matsusaka
Basic Information
Premium Matsusaka Beef
Matsusaka Beef
Name
English: Premium Matsusaka Beef,
Special Matsusaka Beef,
Special Produced Matsusaka Beef
Japanese: 特産松阪牛
English: Matsusaka Beef
Japanese: 松阪牛
Breed
Japanese Black (Kuroge)
Birth Place
Hyogo Prefecture
–
Raising Place
Matsusaka Beef Production Area (Part of Mie Prefecture)
Cattle must be brought to this region before 12 months old, and this place must be last and longest raising place.
Gender
Heifer
Meat Grade

Matsusaka Beef has no requirements in terms of meat grade.

Yield Grade: –
Meat Quality Grade: –
Beef Marbling Standard (BMS): –

Learn more: Meat Grading System

Age
Average 42 months
(at least 900 days in Matsusaka Beef Production Area)
Average 31 to 32 months
Other
Cattle must be registered in Matsusaka cattle individual identification management system. Using 10-digit ID number, you can search and learn about the cattle here: http://www.mie-msk.co.jp/search?lang=en
Number
About 300 cattle per year (in 2015)
About 6,700 cattle per year (in 2015)
Association
Matsusaka Beef Association
https://www.city.matsusaka.mie.jp/site/matsusakaushi/ (Japanese)


Link


Reference